The K Concept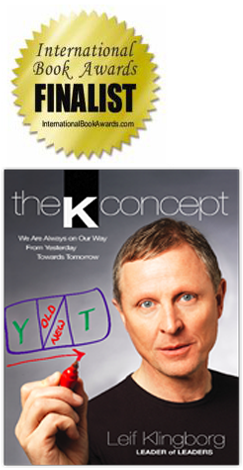 The K Concept will strengthen your people, moving your organization's ambition and strategy forward.
It has been used to support top executives and their organizations since the 1990´s. Developed by Leif Klingborg, and delivered by KLINGBORG consultants and trained leaders. The K Concept is a practical approach that connects and accelerates, supporting more than 25,000 leaders globally.

  We are always on our way from yesterday towards tomorrow...

We can all grow our leadership roles, guiding people and processes to a successful future.
This book will empower your thinking processes about how to create your tomorrow, showing how important you are as the leader, bringing along your unique part.
This book will give ideas, inspiration, and tools for how you can support individuals and teams to upgrade their thinking process, releasing their ambition into their constructive proactive development.
In discussions with leaders over the years, regarding how they can further develop themselves to lead or take opportunities towards executive positions, we have found suggestions like:
 
Find the best mentor
Build yourself strong in your current role, enabling you to choose the next interesting job process that will take you forward.
Seek out and connect yourself with networks that give you what you are really looking for.
Build your own network, the core of people with whom you can make a difference.
And always remember, it is about them! It's about the people connected to your process and their development. It's about how you can get them to generate energy, intelligence, skills, and tactics.
This book will touch these five areas, providing you with understanding and concepts, supporting you to speed up your co-workers' development, building further on their skills, personalities, ambitions, and expectations.
K Concept: awarded finalist in the 2010 International Book Awards in Los Angeles
Price: 5 books for $199.00 USD