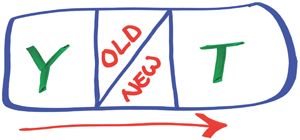 Leading your Company towards tomorrow…
We as leaders have to prepare our people for this next generation of opportunities by developing our leadership skills around how to grow our Co-workers contributions.
We will expand our understanding about how to integrate Human Intelligence with the Machine Intelligence that will be available in the upcoming  market.
The K Concept helps to you as leader when you guide your team towards your company's vision and strategy, preparing every co-worker's understanding of and readieness to act in their context.
You as leader will be the Engine, fueled to act more efficient with your team, with your leadership colleagues and with your boss and mentors. Development is a huge teamwork towards the market edge.
Important to you is to make your choice about how you will manage this upgrade,  to become the strong leader into the new. With that clear in mind, you will find lot's of surprising support waiting for you…
KLINGBORG offers you www support, as you saw in the intro !
Have you been through our training earlier this can be valuable repetition and upgrade.
It starts with part one LEARN2MOVE then part two ACCELERATING OUR COMPANY
Welcome to connect with us, office@klingborg.com